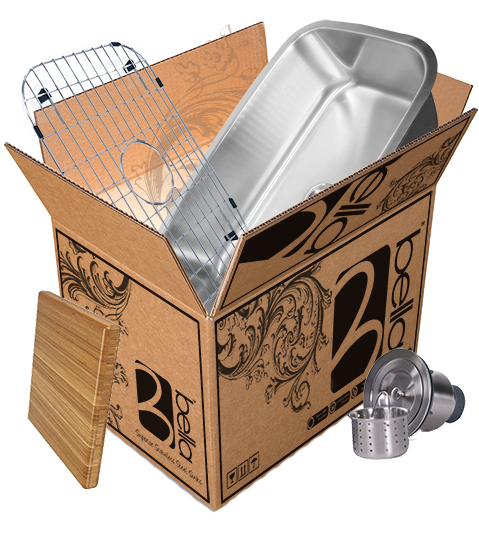 All Bella stainless steel sinks are made from the finest nickel bearing stainless steel and will become lovelier with use and age. Bella sinks are solid stainless steel sinks containing no coating that can wear off. While your Bella sink will offer a lifetime of use, it is not self-cleaning and will require a small amount of regular maintenance to retain its luxurious finish.

Rinsing is the most important part of the sink care. Your Bella stainless steel sink will retain its original bright appearance if the sink is rinsed thoroughly after each use. This can be done by running water from the spray hose for a few minutes. A rinse and towel dry after each use takes care of most everyday clean-ups.


Once a week the sink should be scoured with a mildly abrasive cleanser, rubbing back and forth in the direction of the polish or in a circular motion to remove stubborn stains and greasy film buildups. This will blend any scratches into the satin finish of the sink. Rinse thoroughly and wipe dry and your sink will shine.
• Clean everyday by thoroughly rinsing with a mild soap and warm water then wipe dry.
• Keep the sink free of any standing water as this can cause a buildup of mineral deposits, which can affect the appearance of your sink.


• Remove stubborn stains by scrubbing in the direction of the grain with a mild abrasive such as SoftScrub™.


• Rinse the sink after using any cleaning agent then wipe dry.


• Clean any mineral deposits built up over time with a mild solution of vinegar and water followed by a thorough flushing with water.


• Remove any scratches with a Scotch-Brite pad and cleaning agent. Rub in the direction of the grain. NOT RECOMMENDED FOR MIRROR FINISH.
• Leave water spots, steel cookware, or utensils in the sink for lengthy periods; iron particles can cause rust spots to develop on the stainless steel surface.


• Use a steel wool or scouring pad as it will damage the sink surface and cause discoloration.


• Allow household cleaning agents or bleach to sit in your sink for long periods of time as this may ruin the finish of the sink.


• Leave rubber mats, sponges, or cleaning pads in the sink overnight as this will trap water and could stain or discolor the sink surface.


• Use any drain cleaning products containing sulfuric or hydrochloric acid as this will damage the sink.


• Use silver cleaners which may contain acids that will damage the sink surface.


• Use the inside of the sink as a cutting surface.
Manufacturer or distributor will not be responsible or liable for any errors when using the following care and maintenance guide. Please consult a professional sink installer or fabricator for more details on proper care and maintenance of Bella stainless steel sinks.
This warranty applies only to the original owner. Domain Industries, hereafter known as "The Company", will, at its option, replace such product if it fails due to a manufacturing defect within the specified period from the date of purchase provided it has been used solely in a residential application, used and cleaned as recommended, and not damaged due to abuse or misuse.

The Company reserves the right to examine the product in question and its installation prior to replacement. Product replacement does not include transportation cost or labor installation charges. The Company reserves the right to substitute an equivalent model at its sole discretion.
This warranty does not cover misuse or abuse, accidental damages, scratches or scuffs, abnormal usage, negligence, heavy impacts or dropped objects, improper installation, commercial application, or damage caused by improper maintenance or cleaning. Any repairs or alterations to the sink not authorized in advance in writing by the Company will void this warranty. Damage caused by impurities or acts beyond the Company's control is not covered.
Waste fittings and accessories are not warranted.


Some states do not allow the exclusion or limitation of incidental or consequential damages or limitations on how long an implied warranty lasts, so the above limitations or exclusions may not apply to you. This warranty gives you specific legal rights, which vary from state to state. The foregoing warranties are exclusive and only for the buyer. No other warranty, whether express, implied or statutory, including any warranty of merchantability or fitness for a particular purpose shall be deemed to exist with any of the goods or services supplied. The Company shall not be liable for any indirect, incidental, or consequential damages in any way related to the goods or services supplied.
The owner will be required to write to the address below, including a letter with the following information:
• Description and nature of the defect
• Date of purchase and installation with a copy of the original purchase receipt
• Model number or description of model


Domain Industries, Inc.
attention: consumer services
po box 17066 | austin, tx 78760



Bella is a registered trademark of Domain Industries, Inc. The Bella logo is a trade trademark of Domain Industries, Inc.
Copyright © 2007-2012 Domain Industries, Inc.